Candygram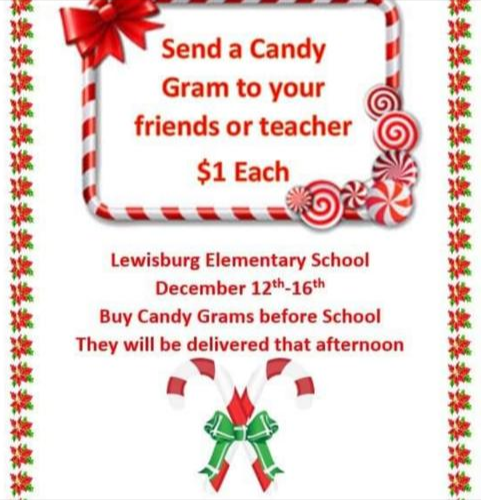 Reminder for Project Fair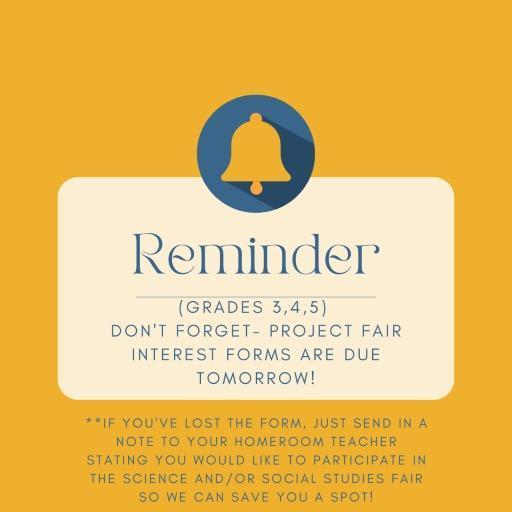 Christmas Program (2nd & 3rd Grades)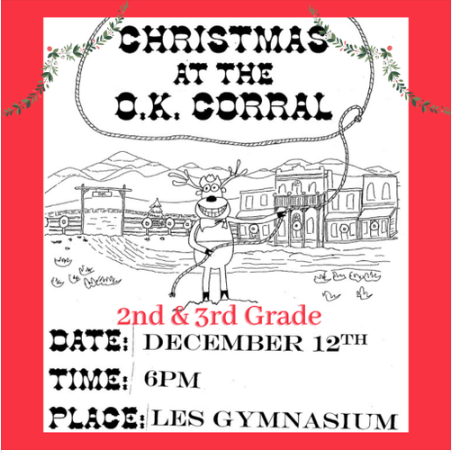 Santa Claus Is Coming To Town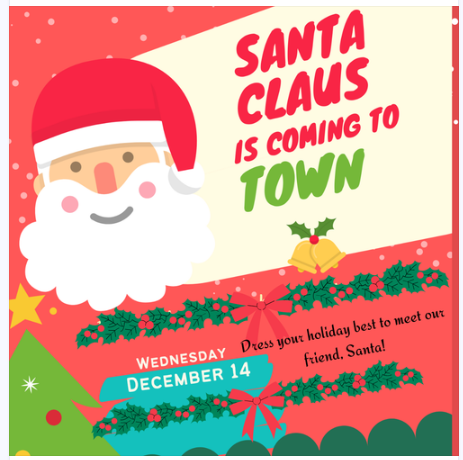 Project Fair Flyers sent home today! ** Bright Yellow! :-)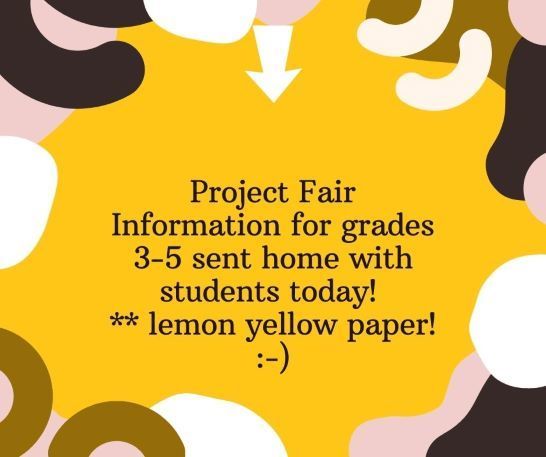 Upcoming Events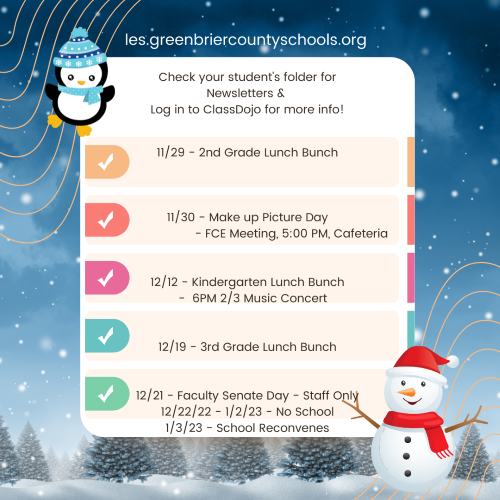 Happy Thanksgiving Break - November 21 -25!

Greenbrier County Schools will operate on a 3-HOUR DELAY TODAY, Thursday, November 17, due to inclement weather.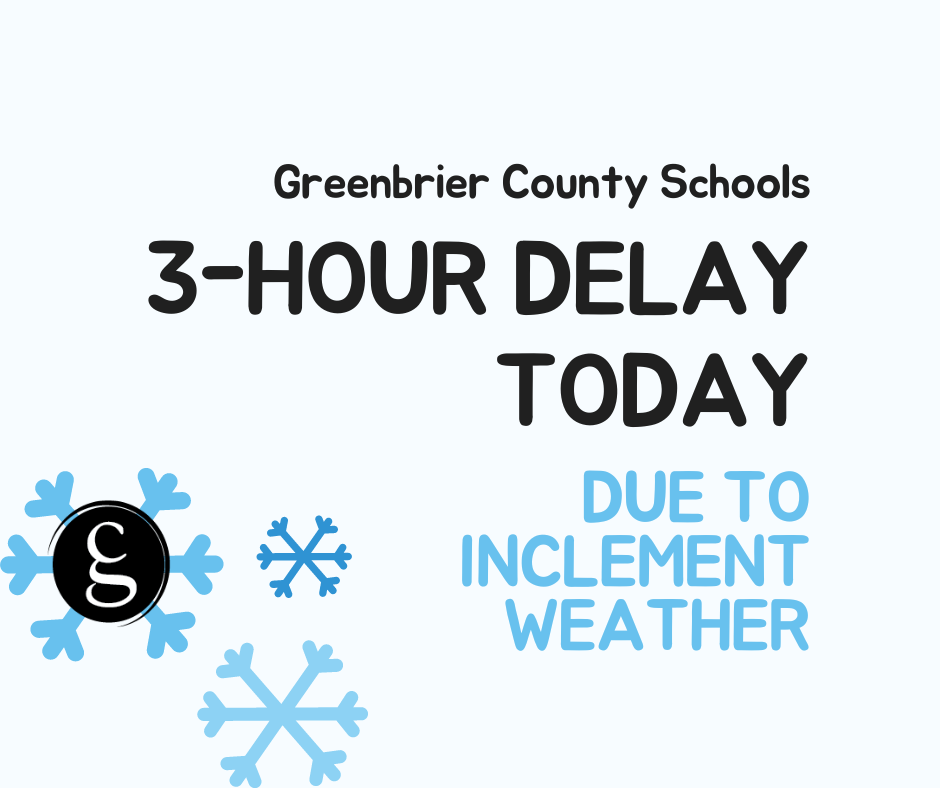 Important Reminder: The Husky Harvest event is a family Engagement activity. You must accompany your student. This is not a drop-off event.

CALENDAR REMINDER: Tuesday, December 20, is the last school day before the holiday break. Wednesday, December 21, is a Professional Learning & Faculty Senate Day for staff. The winter break begins Thursday, December 22, and runs through Monday, January 2. School reconvenes on Tuesday, January 3. Enjoy a restful holiday break!

Students & Staff-- Don't forget your red, white, & blue on Wednesday, November 16th!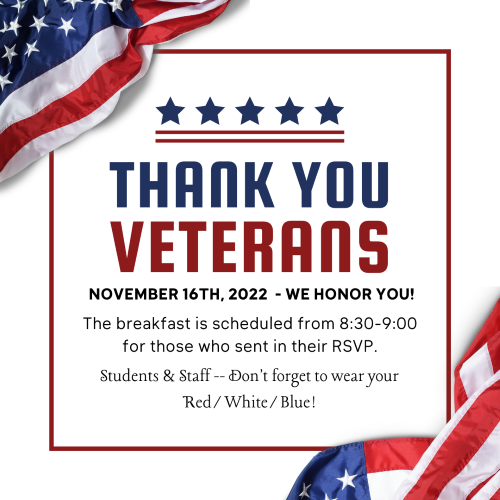 GCS is proud to partner with the WVSU Extension Service, Children's Home Society, and Greenbrier County Family Support Center to present the Healthy Grandfamilies Resource Fair at The Marvel Center in Rupert on Monday, November 14, from 5:30 - 7:30 p.m.

Please note revised important dates!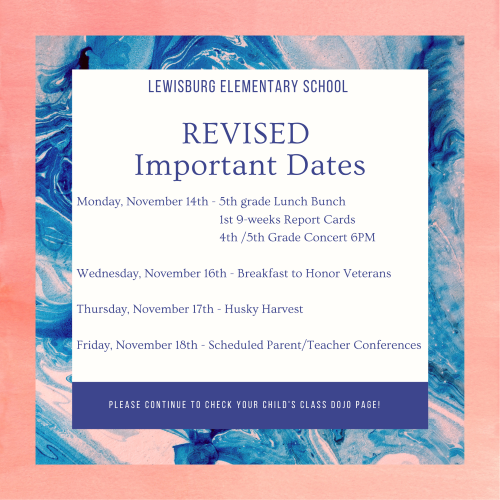 Lewisburg Elementary will be closed for the remainder of the week due to increased flu and flu-like symptoms among students and staff. Afterschool and extracurricular activities are canceled. Lewisburg Elementary will reopen on Monday, November 14. This includes previously scheduled closure days on Tuesday (Election Day) and Friday (Veterans Day).

Attention 4th & 5th Grade families: Our Music Concert has been postponed until Monday, November 14th at 6 PM.

Greenbrier County Schools reminds families that schools will be closed on Tuesday, November 8, in observance of Election Day and Friday, November 11, in observance of Veterans Day. Please remember continuation of the school levy is on the ballot.

The nine weeks Hall of Fame plan for tomorrow at the aquatic center has been postponed due to the recreation pool being closed until further notice. We are also having an increased occurrence of flu like illness and flu like symptoms, causing an increase in student absences. We will celebrate our Hall of Fame winners in the coming weeks and hope to visit the Aquatic Center in the spring. Thank you for your patience and understanding.

Please remember that continuation of the school levy is on the election ballot. The levy supports school security (including police officers in all schools), art & music programs; instructional materials & supplies; capital improvements; facility maintenance & repairs; personnel outside the school aid formula; and maintains employee benefits. Early voting ends Friday, November 5. Schools are closed on Election Day, Tuesday, November 8.

Spiritwear Sale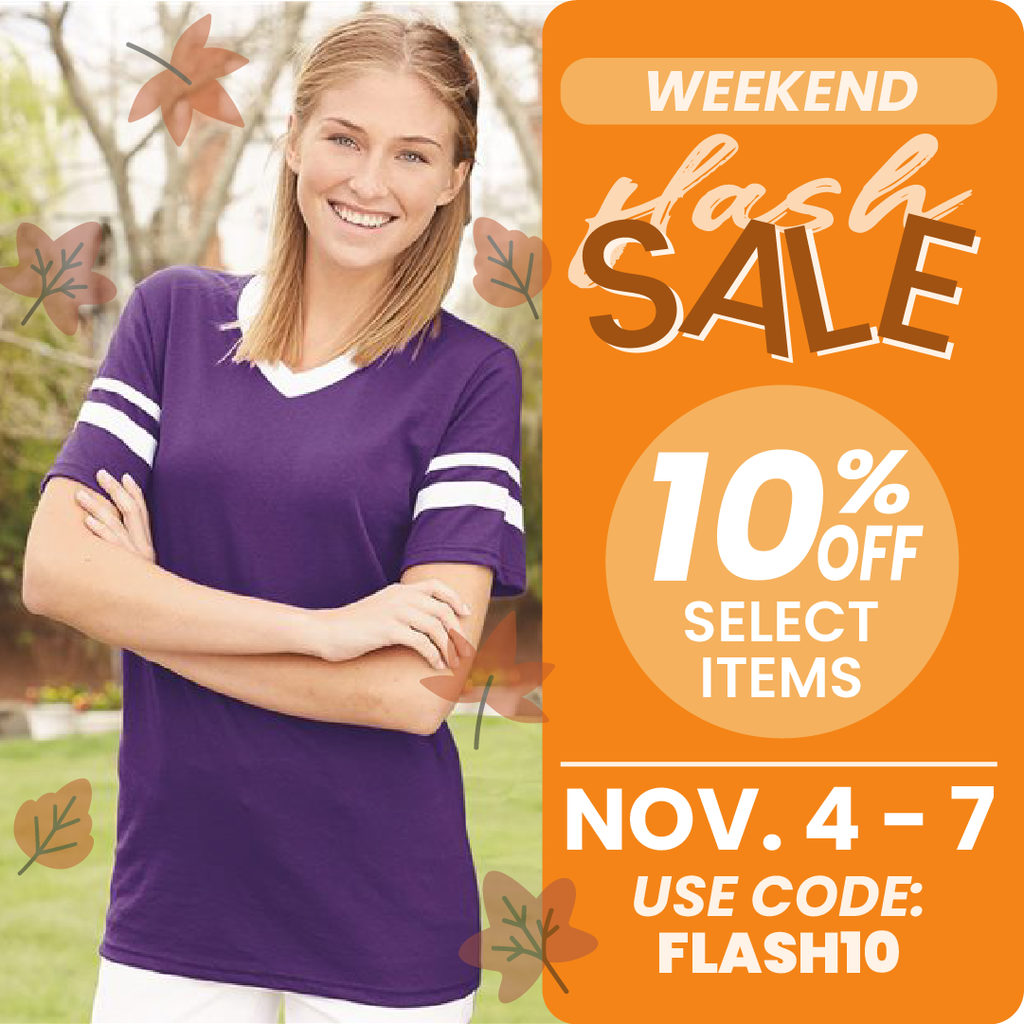 SMART 529 SWEEPSTAKES: SMART529 is celebrating 20 years by giving away three $20,000 savings scholarships to West Virginia children ages 14 and under. One scholarship has been given away already, but there is still time to register for the remaining two. Visit
https://www.wvtreasury.com/20years
for more details regarding the sweepstakes. Families must register to be eligible for the sweepstakes.